Prizes totaling over 270,000 lei were awarded to the winners of Moldova's first regional hackathon, Deeptech GigaHack! For 2 days in Chișinău, 280 IT experts and enthusiasts worked tirelessly to develop technological concepts that met the competition's rigorous evaluation criteria. They all put their technical skills and creativity to use to create solutions that were not only useful but also met the highest standards of quality and efficiency.
"Republic of Moldova is a destination for innovation and creativity. We are looking for innovative solutions for forest monitoring, efficient waste management, and we are confident that you can help us identify them. Know that everyone is proud of the innovations in our country, and anything you do in the Republic of Moldova can turn into a global business," said Dorin Recean, the Prime Minister of the Republic of Moldova.
"This competition provides young people in Moldova with a platform to showcase their creativity and innovation in technology. We are excited to support this initiative and foster the development of future talents in Moldova," added Kent D. Logsdon, the U.S. Ambassador to Moldova.
The largest hackathon ever hosted by Moldova attracted participants, mentors, and speakers from several countries, including Romania, the USA, France, Estonia, Latvia, and Ukraine.
"The first edition of Deeptech GigaHack was a success, becoming an international collaboration platform for experts, specialists, and enthusiasts of advanced technologies, with various levels of expertise and specialization. In the 36 hours of the competition, they developed over 40 solutions, and among these, 8 solutions were designated as winners. Deeptech GigaHack is a launchpad for future international collaborations and the development of an intelligent technological ecosystem in Moldova, attractive for global partnerships. Through the success of this edition, we have demonstrated that we are ready to be part of the global technological revolution and actively contribute to solving real problems in both the public and private sectors through technology and innovation," said Mary Nemciuc, CEO of Technovator and the main organizer of Deeptech GigaHack.
Who are the winners, and what solutions did they generate in 36 hours?
Teams formed on the hackathon platform were challenged by event partners to create technological solutions for various fields. Throughout the competition, they were guided and inspired by a team of 25 mentors, 10 trackers, and local and international experts.
"I am incredibly excited and happy to be the winner of the BioTech category prize, along with my team. Our team's idea was to create a platform – BioInsight, which would serve as support for researchers in the fields of science, medicine, and biotechnology, providing them with accurate, extensive, and structured results for their research topics, with information only from top sources and the possibility of generating tables for comparative and statistical studies in the future. Sincere thanks to all the organizers, mentors, sponsors, and partners for this project, which has a major impact on those who want to bring change to their fields of activity and interest," shared Andreea Goraș, one of the competition winners.
Here are some other projects that impressed the Deeptech GigaHack jury:
EnergyTech Challenge was won by the "Green Forecast" team, which developed a solution promising to accurately predict electricity production. The team received a prize worth 40,000 MDL.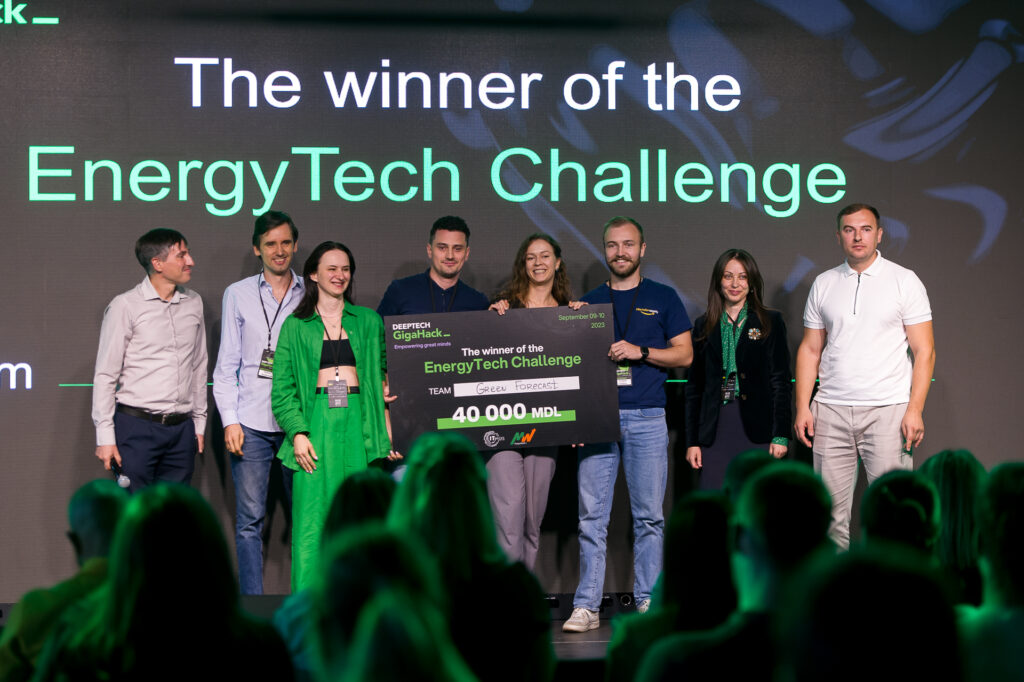 In HealthTech Challenge, the "PROTON SINTECH" team won with the "MetaPatient" solution, an application that generates digital avatars that accurately reflect patients' health status. These winners received a prize of 30,000 MDL.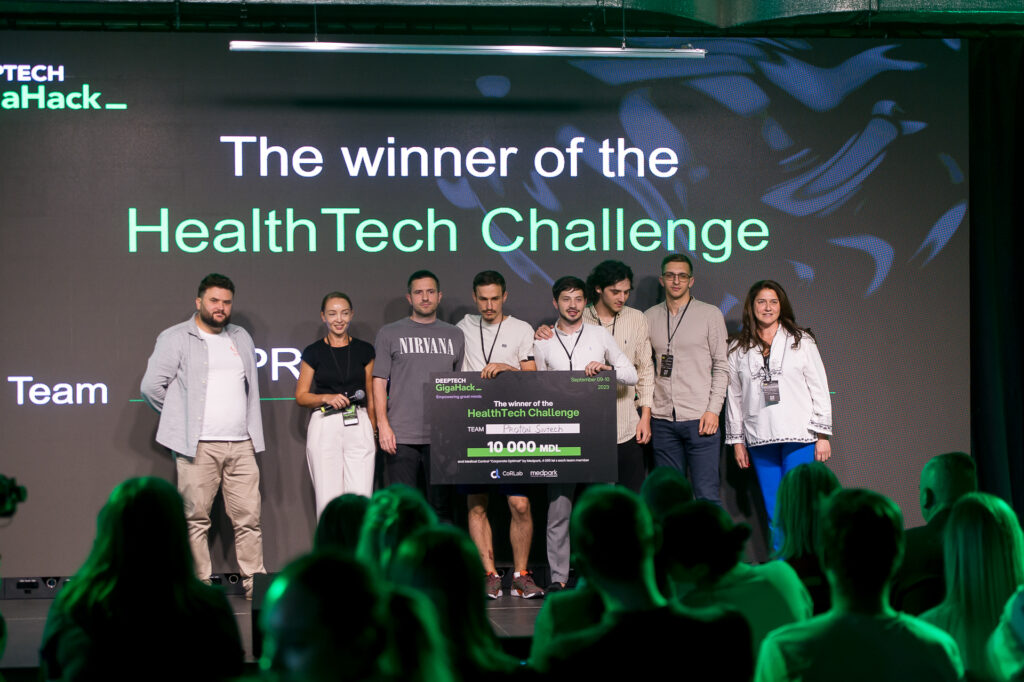 For BioTech Challenge, the "BioInsight" team was awarded with the "BioInsight" solution, a concept for an application that facilitates research in advanced biomedicine. This achievement brought the winners a prize of 40,000 MDL.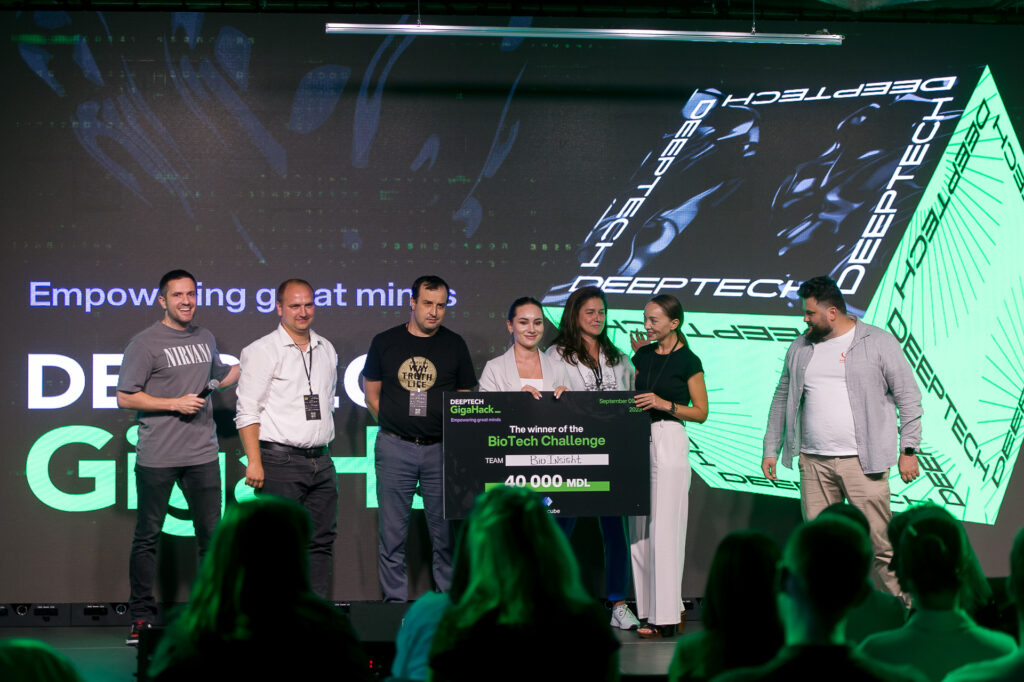 FinTech Challenge was conquered by the "GigaOcco" team with the "The most convenient payment method" solution, which promises to facilitate parking payments at gas stations and drive-ins by connecting the car's license plate number to the user's bank account. The team received a prize worth 20,000 MDL.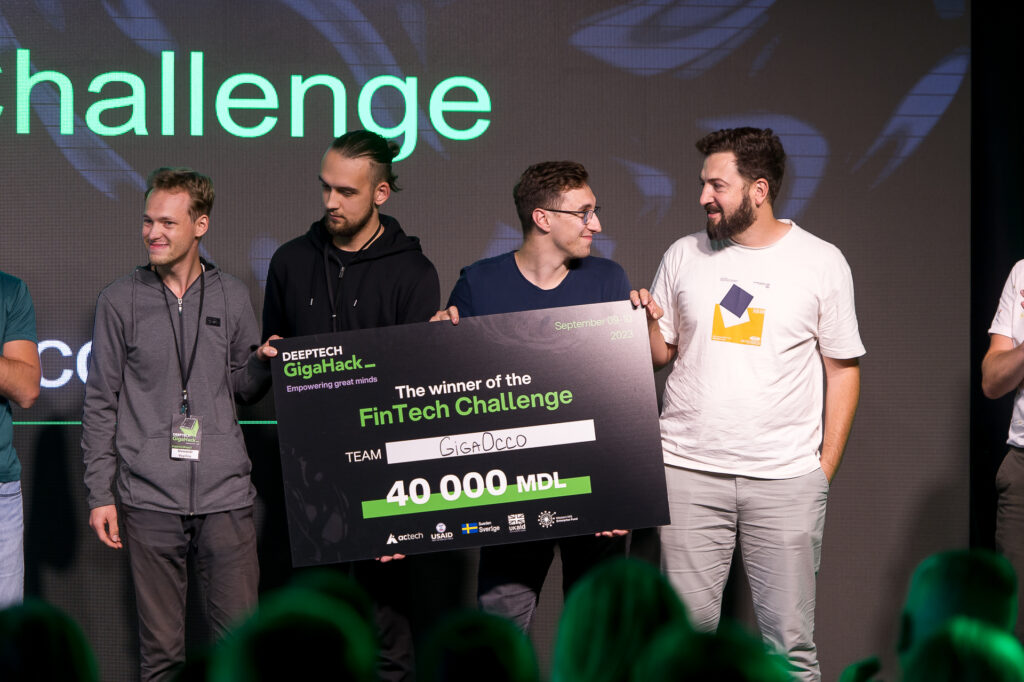 In GovTech Challenge, the "7301" team triumphed with the "Ask Dorin" solution, which promises to simplify citizens' interactions with government services. The team was rewarded with 40,000 MDL.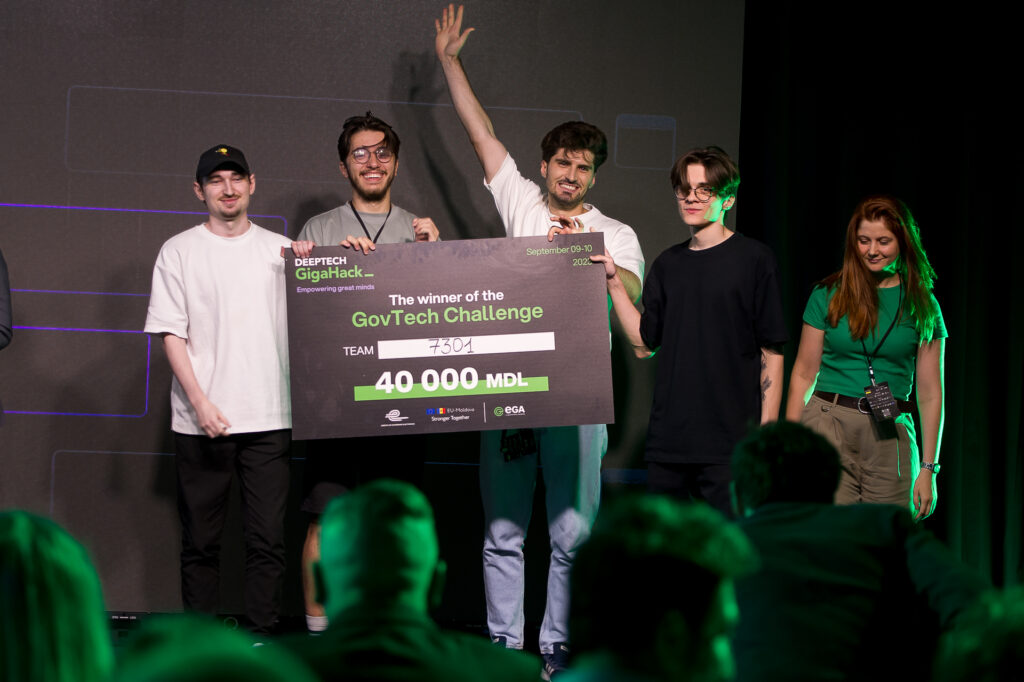 The two Big Data challenges were won by two remarkable teams: the "ROCADA" team won 20,000 lei for the "Predictive Order Intelligence" solution, which accurately predicts daily orders for stores. The "The Tech Tribe" team won the second challenge with the "Scrapify" solution, an application that aggregates real-time data and information about companies. They received a prize of 40,000 MDL.
The Open Challenge, dedicated to unconventional ideas, was won by the "Force RM" team for their "Bionic Hand Prosthesis" solution, which promises to simplify the construction of mechanical prosthetics, encouraging the adaptation of people with mechanical disabilities in society. These innovators took home a prize of 40,000 MDL.